A Comparative Analysis on Community Involvement in Tourism Development in Select Areas of Telangana and Maharashtra
Keywords:
tourism development, tourist activities, integration, barriers, community engagement
Abstract
The research is focused to identify the community involvement and their experiences in the development of tourism in Telangana and Maharashtra states. The study is initiated and empirically tested based on a conceptual model that includes three factors showing the involvement of community in development of tourism. The tourist activities, integration of community and barriers to tourism development in Telangana and Maharashtra states. The data has been collected from 273 respondents, 139 from Telangana and 134 from Maharashtra respectively and analyzed using a Non parametric statistical tool The Mann Whitney U Test. The result is that there is a significant difference between integration of community and barriers in tourism development among Telangana and Maharashtra states but the opinion stands the same with regard to tourist activities among both the states. The findings of the study concluded that community engagement is very important in the development of tourism sector in any state and they contribute to the development of the state directly or indirectly and the state governments also have to provide the opportunity to the individuals to development the tourism sector that contribute not only the GDP but also to promote the heritage and culture of the respective states. The future research could focus on some more additional factors which may help in the development of the tourism sector.
Downloads
Download data is not yet available.
References
Bandaru, R., Victor, S., & Sargunam, S. S. (2020). Eco-tourism market at national parks of telangana state: Development of path model for Tourist Attraction.
Boley, B. B., & McGehee, N. G. (2014). Measuring empowerment: Developing and validating the resident empowerment through tourism scale (RETS). Tourism Management, 45, 85-94.
Chavan, R., & Bhola, S. S. (2013). Government tourism efforts and reflections of tourism in the satara district. International Journal of Marketing and Technology, 3(9), 143.
Chen, C. F., & Tsai, D. (2007). How destination image and evaluative factors affect behavioral intentions?. Tourism Management, 28(4), 1115-1122.
Choi, H. C., & Murray, I. (2010). Resident attitudes toward sustainable community tourism. Journal of Sustainable Tourism, 18(4), 575-594.
Cole, S. (2006). Information and empowerment: The keys to achieving sustainable tourism. Journal of Sustainable Tourism, 14(6), 629-644.
Deshpande, B. K., & Deshpande, R. (2016). A study on development of tourism in n maharashtra. International Journal of Scientific and Research Publications, 6(7), 175-181.
Govind, A. V. (2016). Performance evaluation on the effectiveness of services by telangana state tourism development corporation (TSTDC).
Govers, R., Go, F. M., & Kumar, K. (2007). Promoting tourism destination image. Journal of Travel Research, 46(1), 15-23.
Gultekin, Y. S., Gültekin, P., Uzun, O., & Gök, H. (2017). Use of structural equation modeling in ecotourism: A model proposal. Periodicals of Engineering and Natural Sciences, 5(2).
Gursoy, D., Chi, C. G., & Dyer, P. (2010). Locals' attitudes toward mass and alternative tourism: The case of sunshine coast, Australia. Journal of Travel Research, 49(3), 381-394.
Jamal, T. B., & Getz, D. (1995). Collaboration theory and community tourism planning. Annals of Tourism Research, 22(1), 186-204.
Law, R., Leung, R., Lo, A., Leung, D., & Fong, L. H. N. (2015). Distribution channel in hospitality and tourism: Revisiting disintermediation from the perspectives of hotels and travel agencies. International Journal of Contemporary Hospitality Management, 27(3), 431-452.
Margarita Popova. (2006). Factors that contribute to customer satisfaction in guesthouses in Gauteng Province. University of Johannesburg, South Africa.
N Kencana, & T Manutami. (2017). Structural model to evaluate the effect of participation and satisfaction on eco-tourism sustainability. Journal of Physics, Conf. Series, 893, 012030.
Nerine Cecilia Bresler. (2001). The experience of tourists on privately owned game lodges and reserves in mpumalanga and the northern province. Rand Afrikaans University, South Africa.
Nimase, A. G. (2020). Development of agro-tourism in rural Maharashtra: Challenges and disturbances. Aayushi International Interdisciplinary Research Journal, 1-6.
Ramkissoon, H., & Nunkoo, R. (2011). City image and perceived tourism impact: Evidence from Port Louis, Mauritius. International Journal of Hospitality & Tourism Administration, 12(2), 123-143.
Sathe, S., & Randhave, M. (2019). Agro-tourism: A sustainable tourism development in maharashtra-A case study of village inn agro tourism. (Wardha).
Sekaran, U., & Bougie, R. (2016) Research methods for business: A skill-building approach. (7th ed.). West Sussex: Wiley & Sons.
Sofield, T. H. (Ed.). (2003). Empowerment for sustainable tourism development. Emerald Group Publishing.
Stylidis, D., Biran, A., Sit, J., & Szivas, E. M. (2014). Residents' support for tourism development: The role of residents' place image and perceived tourism impacts. Tourism Management, 45, 260-274.
Thetsane, R. M. (2019). Local community participation in tourism development: The case of Katse villages in Lesotho. Athens Journal of Tourism, 6(2), 123-140.
Thongma, W., Leelapattana, W., & Hung, J. T. (2011). Tourists' satisfaction towards tourism activities management of Maesa community, Pongyang sub-district, Maerim district, Chiang Mai province, Thailand. Asian Tourism Management, 2(1), 86-94.
Ven, S. (2015). Host residents' attitude toward community-based ecotourism: empirical study in southwestern Cambodia. Journal of Tourism and Hospitality, 4(1).
Vernekar, S. (2021). A study on "Tourism in Maharashtra and its future potential". Nveo-Natural Volatiles & Essential Oils Journal, Nveo, 9183-9195.
https://webspace.maths.qmul.ac.uk/b.bogacka/CTS_Chapter3_Students.pdf.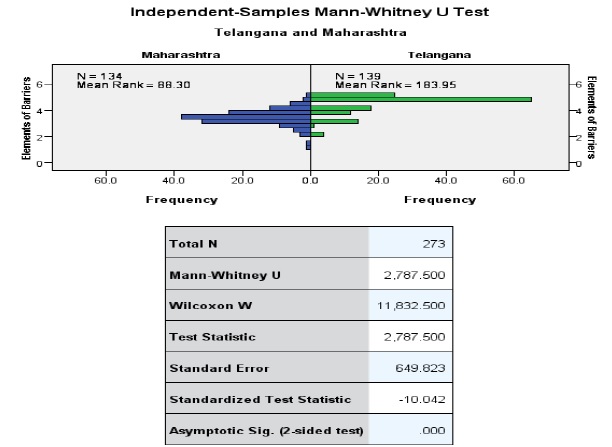 Downloads
How to Cite
Dr. Mallesh Tummala, & Farha Deeba Hassan. (2023). A Comparative Analysis on Community Involvement in Tourism Development in Select Areas of Telangana and Maharashtra. Management Journal for Advanced Research, 3(5), 1–13. https://doi.org/10.54741/mjar.3.5.1
License
Copyright (c) 2023 Dr. Mallesh Tummala, Farha Deeba Hassan
This work is licensed under a Creative Commons Attribution 4.0 International License.